16 July 2021
South Course Fairways Maintenance Works
The South Course Fairways will be cored between 19th July 2021 (Monday) and 30th July 2021 (Friday). During this period, there may be disruption to golfers. 
We apologize for any inconvenience caused and thank you for your cooperation.
The Management
16/07/2021
16 March 2021
Launch of the New KSC Booking System on Thursday 18 March 2021
We are pleased to announce the launch of the new KSC Booking System from Thursday 18 March 2021 for making bookings to play from Thursday 25 March onwards.
To enable more golfers to experience the new booking system, there will be a limit of one booking per golfer during the period 25-31 March 2021. In April 2021 the normal 4 round limit per golfer will be resumed.
Please visit the website (https://booking.kscgolf.org.hk) for making bookings. For further details, please click the links below for a step-by-step tutorial video, user manual and Q&A.
Management
16 March 2021
18 February 2021
Registration for the New KSC Booking System
We are pleased to announce that registration for the new on-line and telephone booking system will start from 2 p.m. today, 18 February 2021 and the first date for making bookings under the new system will be 18 March 2021.
All existing KSC registered golfers and new golfers must register for using the new booking system. Only those golfers who have registered to use the new system will be able to book tee times from 18 March 2021.
Please visit the website (https://booking.kscgolf.org.hk) for registration. For further details, please click the link below for a step-by-step tutorial video, user manual and Q&A.
Management
18 February 2021
17 February 2021
Update on Precautionary Measures Against COVID-19
Following the announcement of the HKSAR Government on relaxing the COVID-19 restrictions, the Golf Course announces the following update to the precautionary measures against COVID-19 with effect from Thursday 18 February 2021:
For the foyer area and all food and beverage outlets no more than 4 people are permitted per table.
On the golf courses a maximum of 4 players will be permitted in each flight.
The Driving Range Dinner Package will be resumed and all facilities will close at 10 p.m. on Fridays, Saturdays, Sundays and Public Holidays.
All other precautionary measures remain unchanged as follows:
Anyone visiting the golf course is required to use the "Leave Home Safe" app at the KSC Ferry Pier in Sai Kung prior to boarding the ferry. For more details about the "Leave Home Safe" app, including download information, please click here. Anyone without a smartphone must register their details including their names, contact number and date and time of visit with our staff.
Management has made arrangements for staff to be tested for Covid-19 prior to reopening and to comply with the latest Government requirement that KSC staff be tested for Covid-19 at least once every 14 days.
Anyone visiting the Golf Course will be required to complete a mandatory Health and Travel Declaration confirming that they have not been out of Hong Kong or had close contact with any persons with confirmed cases of COVID-19 within the past 14 days. The new Health and Travel Declaration is attached here and customers are recommended to complete the form in advance to save time when boarding the ferries.
Any persons undergoing home quarantine or experiencing flu-like symptoms are not permitted to use the facilities, including the courses.
The temperature screening at the Golf Course pier in Sai Kung will remain in effect until further notice. Any visitors or staff recording a temperature of 37.6 degrees Celsius or above will not be permitted to board the ferries and will be advised to seek immediate medical assistance.
All persons must wear a face mask at all times before and after exercise within the facilities (exercise being defined as physical activity on the golf courses and practice facilities). Any person who fails to put on a face mask will regrettably not be allowed to board the ferries and shuttle buses.
Access to play on the courses will be through advance tee time bookings only.  Walk-ins will not be permitted until further notice.
In view of unprecedented demand, as a matter of fairness, patrons will be limited to a maximum of 4 rounds in each calendar month (not including rounds where patrons are eligible for 50 per cent refund due to inclement weather).
All persons are requested to use the hand sanitation station at the Golf Course pier prior to boarding the ferries.
Shower facilities will remain open and disinfected at least once every 4 hours.
Golfers returning golf carts to the golf cart center are requested to remove all personal items and dispose of their own rubbish in the bins provided.
F&B outlets have suspended the provision of buffets. Only a la carte service will be available.
All high traffic areas and contact points are sterilised on an hourly basis.
Management wishes to thank all customers in advance for their understanding and cooperation.
Management
17 February 2021
11 February 2021
Golf Course Sai Kung Car Park – Increase of Surcharge for Non-Golf Course Patron
With effect from 22 February 2021, the surcharge for Non-Golf Course Patron at the Lower Floor of the Car Park will be increased to HK$100. This is waived for vehicles entering after 3:00pm and exiting before 6:00am each day.
Other hourly parking fee will remain unchanged.
Thank you for your patronage.
Management
11 February 2021
14 January 2021
Twilight Golf
Or click here to the tee times in 2021
22 November 2020
Suspension of on day Walk-in Golf with Effect from Monday 23 November
In view of the deteriorating situation related to COVID-19 only golfers with booked tee times will be allowed access to the golf courses. On day walk-in golf will be suspended with effect from Monday 23 November until further notice.
Patrons are also kindly reminded to wear face masks at all times when not eating at F&B outlets or playing golf and adhere to the latest social distancing measures mandated by Government.
Management will continue to monitor the situation related to COVID-19 and take further actions as necessary to enhance social distancing for the safety of our customers and staff.
We apologise once again for any inconvenience caused.
Management
22 November 2020
19 November 2020
Temporary Suspension on Making Changes to Weekday Tee-time Bookings
Please note that with effect from Friday 27 November 2020 the policy of no changes to weekend and public holiday tee-time bookings will be extended to include weekday bookings. No changes (including players, tee-time, date and golf course) will be accepted, except for withdrawals, (i.e. individual players or cancellations of the entire bookings.)
We appreciate your understanding on the need for this temporary policy and apologise for the inconvenience caused.
The Management
19 November 2020
4 November 2020
Identity Checks at Starter Huts
Please note that with effect from Monday 9 November 2020 all golfers are required to show their identity cards or passports at Starter Huts before tee-off.
Patrons are kindly reminded that any person who plays or attempts to play in another player's name will be asked to leave the golf course at once without any refund of fees/charges already paid and will also be subject to the same 180-day suspension of playing rights and privilege in making advance tee-time bookings as that of the player who has allowed him/her to play.
The above requirement is on a temporary basis during the current period of unprecedented demand.
We appreciate your understanding on the need for this additional check.
Management
4 November 2020
21 October 2020
Update on Maximum of 4 Rounds of Golf per Golfer in Each Calendar Month
After a review of the first month implementation of the above temporary policy, golfers reaching the 4 round cap in a calendar month will now have their booking rights reinstated 7 days in advance of the first day of the following month (in other words, golfers concerned will be able to book Tee-time of 1 November 2020 on 25 October 2020).
We appreciate your understanding on the need for this temporary policy and apologise for any inconvenience caused.
Management
21 October 2020
4 September 2020
Notice on Maximum of 4 Rounds of Golf per Golfer in Each Calendar Month
In view of the unprecedented demand for tee times, as a matter of fairness, golfers will be limited to a maximum of 4 rounds of golf in each calendar month until further notice. Details of this temporary measure are as follows:
"Rounds" means rounds played (not including rounds where golfers are eligible for 50 per cent refund due to inclement weather).
Upon reaching the limit golfers will be suspended from booking or walk-in until the first day of the following calendar month.
Any advance bookings already made within the same calendar month by golfers reaching this limit will automatically be cancelled.
For any enquiries related to this temporary measure, please contact the Booking System Help Service at 2791-3390.

This temporary measure is aimed at giving all golfers an opportunity to play during a period of heavy demand. We appreciate your understanding and apologise for any inconvenience caused.
Management
4 September 2020
10 January 2020
World Handicap System
The Hong Kong Golf Association (HKGA) has launched the new World Handicap System (WHS) in January 2020. The WHS was developed by the USGA and R&A and will provide golfers with a unified and consistent measure of playing ability, with handicaps calculated the same way wherever they are in the world.
New Slope Rating Tables
With the new WHS the KSC Slope Rating Tables have been updated by the HKGA and are available under the golf section on our website at www.kscgolf.org.hk, on notice boards at the Golf Course and at the starting tees of each golf course. Please refer to these tables to determine the correct handicap for the course and tees you are playing from.
Monthly Handicaps
As handicaps through the new GHIN system will show daily updates, you should only use the handicap listed as of the 1st day of each calendar month when playing within that month. This is a decision made by the HKGA whereby all clubs and courses in Hong Kong should follow.
Further information on the new WHS can be found at the WHS website www.whs.com and the handicapping section of the HKGA website www.hkga.com.
1 July 2019
Sports Angels Needed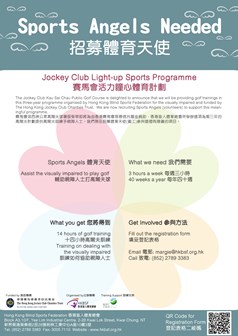 Click here to download the registration form.
3 February 2019
The Three Millionth Golfer (3/2/2019)
Congratulations to Ms. Suh to be our three millionth golfer! She has received 5 complimentary rounds of golf and a commemorative trophy from our Golf Course, and great gifts sponsored by Oakley, Ping and Titleist. Big congratulations to Ms. Suh again!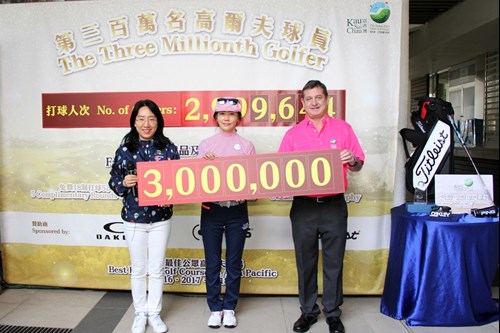 8 September 2018
Policy on Avoiding Single-Use Plastics
As part of our commitment to environmental protection and waste reduction the Golf Course will start phasing out single use plastics and replacing these with more sustainable alternatives from 1 October 2018.
Plastic straws will be phased out and replaced with paper ones on request.
Plastic stirrers will be replaced with wooden stirrer and bamboo picks.
Plastic cups and covers for drinks will be replaced with biodegradable types.
Paper hot dog box and sandwich box will be used for takeaway.
Plastic take-away food containers will be replaced with biodegradable boxes.
Sustainable wooden knives and forks will be provided on request for takeaway food.
Plastic bags provided with take-away food will be phased out and replaced with paper bag (without plastic lining).
Starting from 16 January 2019, the Golf Course will not sell water and drinks in single use plastic bottles. Water and drinks in cans or glass bottles will be available for sale at Cheers, Mobile Kiosks and vending machines. The provision of filtered water and distilled water in reusable carboys will remain unchanged at the Administration Building and the three golf courses respectively.
A simple logo KSC reusable water bottle will be available at Cheers at low cost for customers purchase to use for storing drinks for consumption or refilling on course.
The Golf Course will continue to find ways to make our operations more sustainable and help reduce waste in Hong Kong's landfill.
Management
30/9/2018
31 August 2018
Dengue Fever Control
The Centre for Health Protection Department has recently announced more than 26 local cases of Dengue Fever in Hong Kong.
The Golf Course has been taking the following additional Mosquito control measures:
Inspecting facilities, clearing drains and u-channels of debris and eradicating ponding areas;
Increased the frequency of spray and fumigation by pest control company;
Installed additional mosquito traps and ensured all are functioning properly.

Management has been closely monitoring the situation, and will act in accordance with advice from the Government.
For your information, the Centre for Health Protection has advised the public to take heed of the following personal measures:
Wear loose, light-coloured, long-sleeved tops and trousers;
Use DEET-containing insect repellent on exposed parts of the body and clothing;
Avoid using fragrant cosmetics or skin care products when engaging in outdoor activities;
Take additional preventive measures and re-apply insect repellents according to instructions;
Avoid staying in shrubby areas;
Use mosquito screens or nets in rooms that are not air-conditioned.

Management
31/8/2018
27 November 2015
Golf Bag Trolley Service between KSC Sai Kung Pier and Car Park
Patrons are reminded that the complimentary golf bag trolley service is provided exclusively for use between the Golf Course Pier and Car Park in Sai Kung. Under no circumstances should trolleys be used for any other purpose whatsoever.
Patrons leaving trolleys in the Sai Kung town area leads to significant loss and theft of trolleys. The Golf Course is also facing increasing numbers of complaints from the general public on the nuisance caused by trolleys left in public areas.
To ensure the continued provision of the trolley service it is important that patrons use the service as intended between the Golf Course Pier and Car Park.
Thank you for your kind attention!
Management
27/11/2015
30 September 2015
Golf Cart Driving License Requirements
In accordance with Road Traffic (Village Vehicle) Regulations, all golfers driving golf carts must hold a valid driving license with effect from

 

1 October 2015.
Hong Kong Identity Card holders who wish to drive a golf cart must possess a full Hong Kong driving license.
Visitors to Hong Kong (visitors mean that they arrive at Hong Kong other than to take up residence for a period not exceeding 12 months) may drive a golf cart with a valid international driving permit or domestic driving permit / license, provided they are 18 years and above.
Golfers must provide a valid driving license each time they are issued a golf cart. Otherwise they will not be permitted to drive.
Management
30/9/2015
28 March 2013
Privacy Policy Statement
Notice relating to the Personal Data (Privacy) Ordinance, please refer to details.
Management
28/3/2013
15 May 2011
Only KSC Golf Course Professionals are authorised to conduct Golf Tuition within the Golf Course premises
Other Golf Professionals
1. are always welcomed to play at our Golf Course for social purposes.
2. are recommended to respect the professional code by not conducting themselves in a manner which could be considered as COACHING.
3. are requested to note that persons found violating the professional code could be banned from visiting the Golf Course.
Management
15/5/2011