To be included in our customer database to facilitate tee time reservations and for statistical analyses for service improvements, you are requested to complete the registration procedure on-line to input your data to our customer database. All information provided will be for internal use only.
The Handicap Requirements for general play on the North, South and East Courses are:
  

Weekdays

Weekends/Public Holidays

  

North Course/ East Course

South Course

North Course/ East Course

South Course

Men
54.0 or below
54.0 or below
30.0 or below
54.0 or below
Ladies
54.0 or below
54.0 or below
30.0 or below
54.0 or below
* only golfer with handicap index of 9.0 and below are permitted to play from the blue tees
The above requirements apply to both Hong Kong Identity ("HKID") Card holders and non-HKID Card holders of all ages. However, qualified handicap players may bring players who have no handicap index to play at the South Course after 9:00 am on weekdays (except public holidays), subject to at least one qualified handicap player per flight.
The Golf Course accepts handicap certificates from all recognised golfing bodies or associations. For details on obtaining a golf handicap, please visit the handicap section of Hong Kong Golf Association
website: www.hkga.com
During first time registration with the Golf Course customers are required to upload their valid handicap certificates in the system for on-line verification. Golfers would not be expected to produce their handicap certificate for every check-in, subject to the handicap requirements currently in force. This applies to golfers with advance tee-time booking or on-day walk-in golfers.
Players who hold Kau Sai Chau Golf Pass can play at all three golf courses.
For details on obtaining a golf handicap, please click here.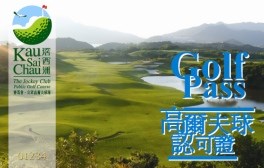 Guidelines for using Golf Carts
(A)   General arrangements
The East Course is a cart only golf course (no walking). The South Course is optional walk/cart course. All golf carts are complimentary.
Each golf cart accommodates a maximum of two passengers at any one time.  The Golf Course reserves the right to arrange golfers of the same tee-time to share one electric golf cart.  A maximum of two electric golf carts will be allocated to each tee-time.
Golf carts would only be allowed on concrete pathways.
Golf carts may be collected within 30 minutes of reserved tee times, but not later than 15 minutes before teeing off.
Golfers must return golf carts to the designated location at once upon completion of golf rounds.
(B)   Driver
Golfers must provide a valid driving license each time they are issued a cart in accordance with Road Traffic (Village Vehicle) Regulations, otherwise they will not be permitted to drive.
Hong Kong Identity Card holders who wish to drive a golf cart must possess a full Hong Kong driving license.
Visitors to Hong Kong (visitors mean that they arrive at Hong Kong other than to take up residence for a period not exceeding 12 months) may drive a golf cart with a valid international driving permit or domestic driving permit / license, provided they are 18 years and above.
Golfers must provide a valid driving license each time they are issued a golf cart. Otherwise they will not be permitted to drive.
Golf bag carrier hired from the Golf Course and private bag carriers who are over 18 years of age and have a valid driving license are allowed to drive for golfers. (Please note that private bag carriers / golf bag carrier are not allowed on East Course).
Drivers are required to read and sign the Golf Cart Declaration form prior to the use of golf carts.
Drivers must comply with all the Golf Course terms and conditions for the use of the golf carts, including cart guidelines compensation for damages to golf carts and other Golf Course properties, reporting accidents, not allowing more than two persons on a golf cart while moving, not leaving juniors below the age of 18 years on golf carts unattended, etc.
Abuse of golf carts of any kind is strictly forbidden and would result in immediate withdrawal of the right to use golf carts.
Drivers are not to operate golf carts under the influence of alcohol, drugs and any other substances, which would cause danger to themselves and other people.
(C)   Rules on the cart path
Users of carts must read and follow the Warning Signs and Visage Operating Instructions mounted on the golf carts.
Golf carts are only allowed on concrete pathways and are not allowed on tee grounds, greens, fairways and their surroundings as marked, grounds under repairs, hazards, protected areas and any other places as indicated by the Golf Course.  Golf Course officials are authorised to stop golfers playing and ask them to leave the golf course if they are found abusing this rule.
Drivers must follow all directional signs on a one-way traffic basis, do not overtake another moving golf cart and keep a safe distance with the golf cart in front.
Golf carts should give way to the Golf Course maintenance vehicles and machinery at all times.
Drivers should drive in a safe manner as advised by the Golf Course, and avoid sudden start, skidding and abrupt halt.
Golf carts should be parked at passing bays and other safe places during the rounds.
All golf carts have GPS systems with yardages.
Golfers are required to do check-in at Reception at least 20 minutes prior to their scheduled tee-time and report to the Starter at least 10 minutes before the allotted tee-times.
Proper and valid identification document, either Hong Kong Identity Card or Passport, must be produced when checking-in. No other identification proof would be accepted.
Handicap certificates are not required when checking-in, except for the following cases:-

players with provisional registration who have not yet had their handicap verified on-line ; or
players who have just updated their handicap index in their golfer profile but have not yet had the update verified on-line in order to be qualified to play on weekends and public holidays at the North Course or the East Course; or
Non-handicap players who are registered with KSC but have recently obtained formal handicap index, should update their handicap index in their golfer profile as for (b) above.